Snow White took a bite out of the Big Apple this past Friday!
Magic Mirror on the wall, who is the fairest one of all?
Snow White, the fairest of all Disney Princess' of course!
I'm used to seeing all kinds of celebrities here in New York City but something truly magical happened here on Friday.  Snow White the first and fairest of all Disney princesses  decided to make a surprise visit to New York City!
The Princess and her friends toured Central Park on Friday and I missed them! I can't believe it! Central Park is my back yard. I am always there.  How can this be?  I was heart-broken but I hear there is another way to see the gang.
The Princess, Prince and Descendants star Sofia Carson will make a special guest appearance at the Saks Once Upon a Holiday window unveiling this Monday, November 20. No word on whether Dopey and the dwarfs will be in tow but I sure hope so!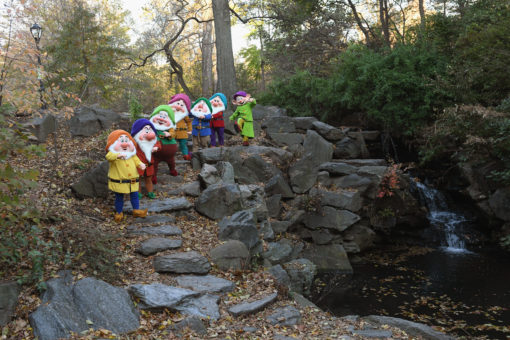 The event which commemorates Snow White's 80th anniversary will be live streamed on Snow White's official Facebook page and Saks.com. I hope you will be able to tune in for the fun.
Photos credit: Brian Ach & Noam Galai/Getty Images for Disney
With a smile and a song from Walt Disney's Snow White:
With a smile and a song
Life is just a bright sunny day
Your cares fade away
And your heart is young
With a smile and a song
All the world seems to waken anew
Rejoicing with you
As the song is sung
There's no use in grumbling
When the raindrops come tumbling
Remember, you're the one
Who can fill the world with sunshine
When you smile and you sing
Everything is in tune and it's spring
And life flows along
With a smile and a song
Songwriters: Frank Churchill / Larry Morey