Be like Tom Brady and help a stranger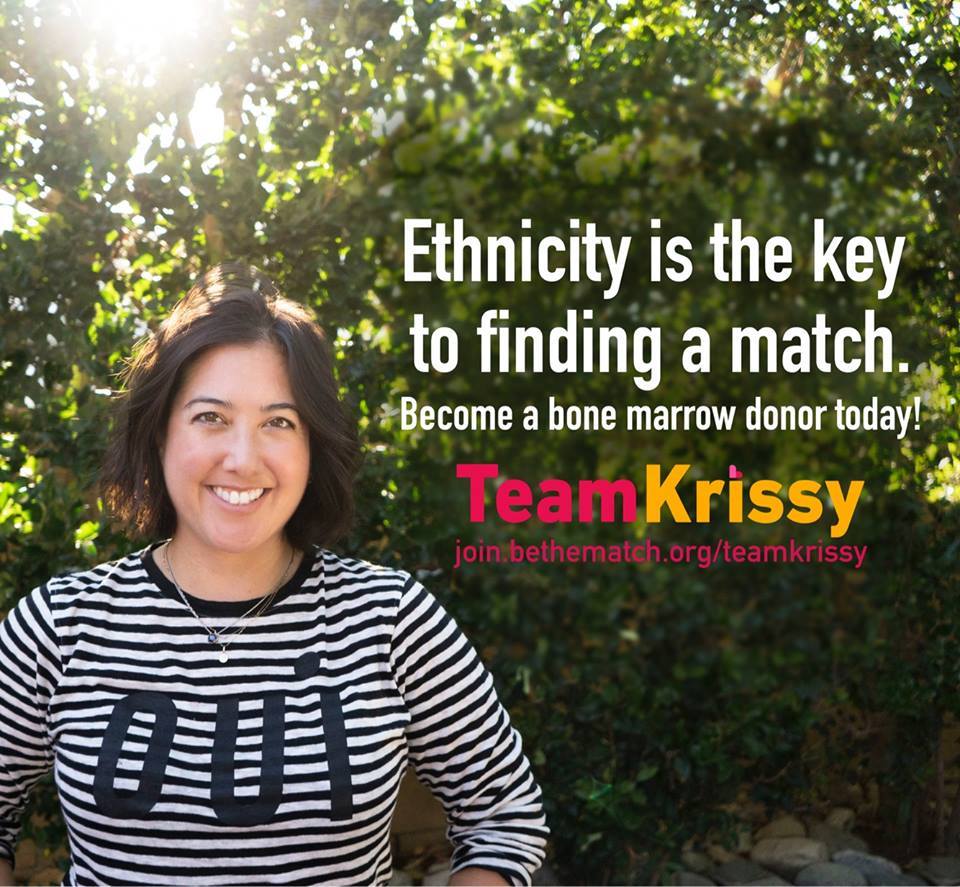 I'm pretty sure all guys want to be like Tom Brady (even though they might not want to admit it). It is actually very easy to be like Tom. Want to know the secret?
All you need to do is be willing to spend a few minutes to spread the word to
help a stranger out  (<— read this). That's it! Take a few minutes out of your busy schedule to send out an email or a social media post and you may help change someone's life.
70% of people needing a bone marrow transplant must rely on a stranger to help.
Krissy Kobata is in dire need of a bone marrow transplant. She was diagnosed with a blood disorder called Myelodysplastic Syndrome at the age of 25. Team Krissy was formed in 2008 to help Krissy find her perfect donor.
Unfortunately Krissy has not found her match yet.
What is Myelodysplastic Syndrome?
MDS is a primary bone marrow condition. Krissy's bone marrow does not produce normal blood cells. The condition is also known as "pre-leukemia." Left untreated, it can progress to acute myeloid leukemia, a cancer that forms inside bone marrow. You may recall that Robin Roberts from Good Morning America was diagnosed with MDS five years after undergoing treatment for breast cancer. Robin received a transplant in 2012 from her sister and is thankfully doing well.
Ethnicity is a key factor in finding a bone marrow "match." Krissy's family is of mixed heritage. Krissy is "Hapa" meaning she is of Japanese and Caucasian descent. This has made finding a perfect donor match more difficult for Krissy. Diverse donors are desperately needed for the bone marrow registry. There are so many people of mixed race in the same situation as Krissy. Their donor matches are out there they just have not been located yet.
What you can do to help aka…
be a little more like Tom Brady:
-Spread the word!  Please share this post to get the word out to potential donors.
-Register as a bone marrow donor here
-Learn more about MDS here.
-Follow Team Krissy on Facebook, Twitter and Instagram. Ask your friends to do the same.
–Additional ways to help can be found by clicking on this link.