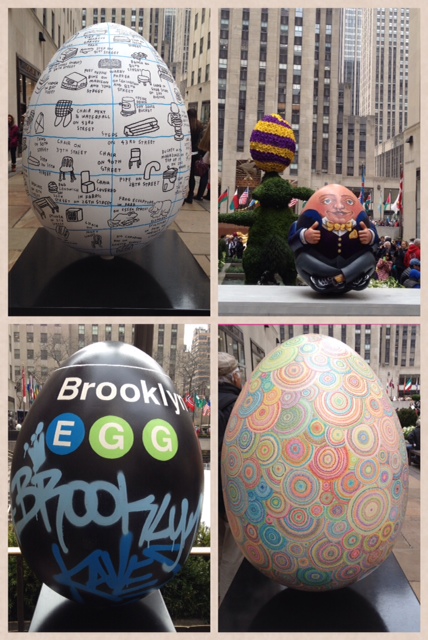 I was off of school all this week and got to go to a fun camp from Monday-Thursday.  The highlight of my week though was Friday.  I got to go to work with Mommy!  I love her office and all of her kool friends.  They are so nice to me.  There is always something to eat and an adventure around every hallway!  I also got to meet some other kids, play with their video games and watch Frozen. What could be better? After work fun. Now I know why people say T.G.I.F!
Mommy said we were going on an EGG-venture to Rockefeller Center after work.  I had no idea why, or what that meant but I'm always up for an adventure.
Little did I realize I was about to see one of the biggest, best Easter Egg hunts ever!
Giant Fabergé eggs were hidden all over NYC.  I saw one by Madison Square Park last weekend, but I didn't know there were more.  There were actually 270 hidden around my city for the past few weeks.  Now, all of the eggs have been put on display at Rockefeller Plaza!
The eggs will be on display through April 25.  If you know me, you know I love animals.  The best thing about this event is that the eggs will be auctioned off at Sotheby's on April 22 to benefit Elephant Family & School in Studio.  Helping endangered elephants and encouraging visual arts in school is awesome!  Among those who contributed designs are Sting, Ralph Lauren and Martha Stewart.
If you are in the NYC area it is worth the trip to Rockefeller Center to see these beauties.  I created some beauties of my own last night with the help of Paas.  I was inspired by the best!