Enchanted Tales With Belle at Disney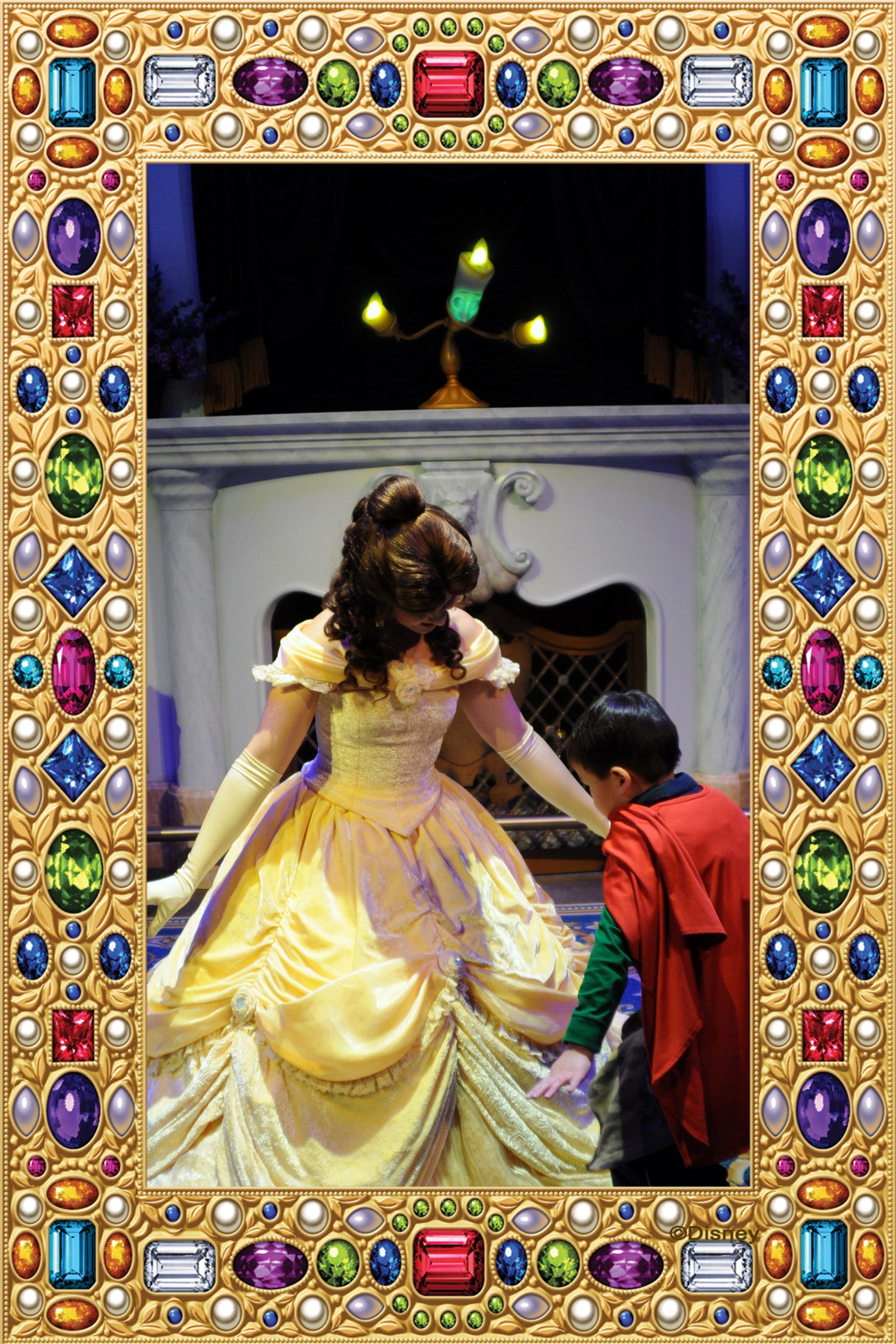 Once the new live action Beauty and the Beast film hits the theaters I predict kids everywhere will be running around looking for an "adventure in the great wide somewhere." Luckily they can find just that at one of my favorite experiences at Disney World.
Beauty and the Beast springs to life in Enchanted Tales with Belle in Fantasyland.
Enchanted Tales is an attraction that flies under most people's radar.  It definitely should not!  I consider this a top ten Disney experience especially if you are traveling with a young Beauty and the Beast fan!
Upon arrival to Maurice's (Belle's dad) cottage you are treated to a glimpses of Belle's childhood.  I loved seeing her special book collection.  This is a fun way of moving guests through the long line into Maurice's workshop.  Eventually, a magic mirror transports all guests into a wardrobe.  While in the wardrobe, you can volunteer to help reenact a scene from the movie.  This "play" takes place in the Beast's magnificent library and stars Belle!  I won't spoil the experience with more details because you will want to see the terrific effects for yourself. 
My son volunteered to play the Beast in our session.  It was fantastic.  He really got into character and was completely smitten while dancing around the room with Belle.  All actors receive a photo pass card at the end of the performance.  The photos taken by Disney photographers are amazing.  I purchased them all and we tease our son that his pictures with Belle look like their wedding pictures.  
Enchanted Tales is the only guaranteed opportunity to meet Belle in the Magic Kingdom!  
Belle sometimes appears at Cinderella's Royal Table but she is not a guaranteed guest.  Belle never attends lunch or dinner at Be Our Guest but she is always present in Fantasyland!  After the performance anyone who wanted to meet Belle was able to come up for a photo.  She graciously spent time talking with everyone and taking photos.   I cannot stress enough how this attraction should not be missed.