Free Star Wars Snowflake Printables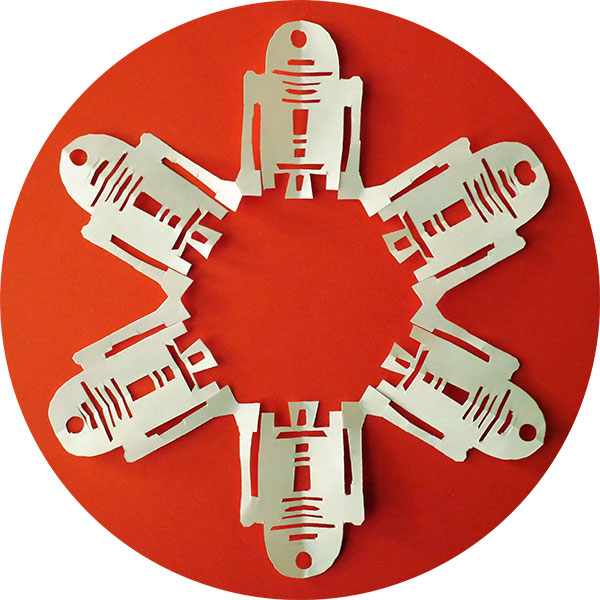 It's the most wonderful time of the year!  Rogue One is coming out, the holidays are here and I am going to give you a free Star Wars snowflake printable.
I just love all the crafts that come along with the holiday season.  My only complaint is that there never seems to be enough time to get to creating all the fun ideas that we are seeing on social media.  You've heard of FOMO (Fear of missing out)?  I have fear of missing craft time!  Right now I am all about creating personalized stockings and snowflakes.
The other day my friend and I snuck out for a tea date while the kids were at their weekend basketball game and chess match.  We went to a local favorite coffee shop Gregory's to chat. Gregory's was having the best promo!  They were giving away a free 12 oz. drink of choice to anyone who brought in a hand made snowflake to display.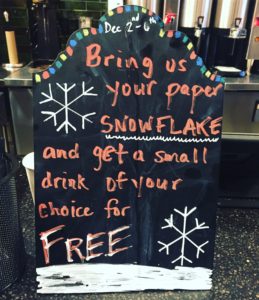 Luckily for me my friend is extremely talented and came prepared with two very special Star Wars snowflakes to exchange for chai lattes.
Her incredibly detailed Star Wars snowflakes are now hanging front and center at the coffee shop.  All of the baristas could not believe their eyes.
Amazing right?
I happened to mention that my son would love to be able to make something as kool as this.  She was generous enough to offer a free printable with instructions to all of my readers!
Here is a step by step guide to creating your own Star Wars snowflake:
R2D2
-Cut out circle
-Fold circle paper in half, then quarter, then in thirds
-Cut according to pattern
The folded paper gets quite thick and is hard to cut!
You may want to use a binder clip to keep the layers together while cutting!
Want your own C3PO download as well?  Leave a comment on my blog, like this post on Facebook and pay a quick visit to One Leaf Works and I will message you the Star Wars C3PO PDF.
For more fun family ideas follow Kid Congeniality on Facebook and Instagram.