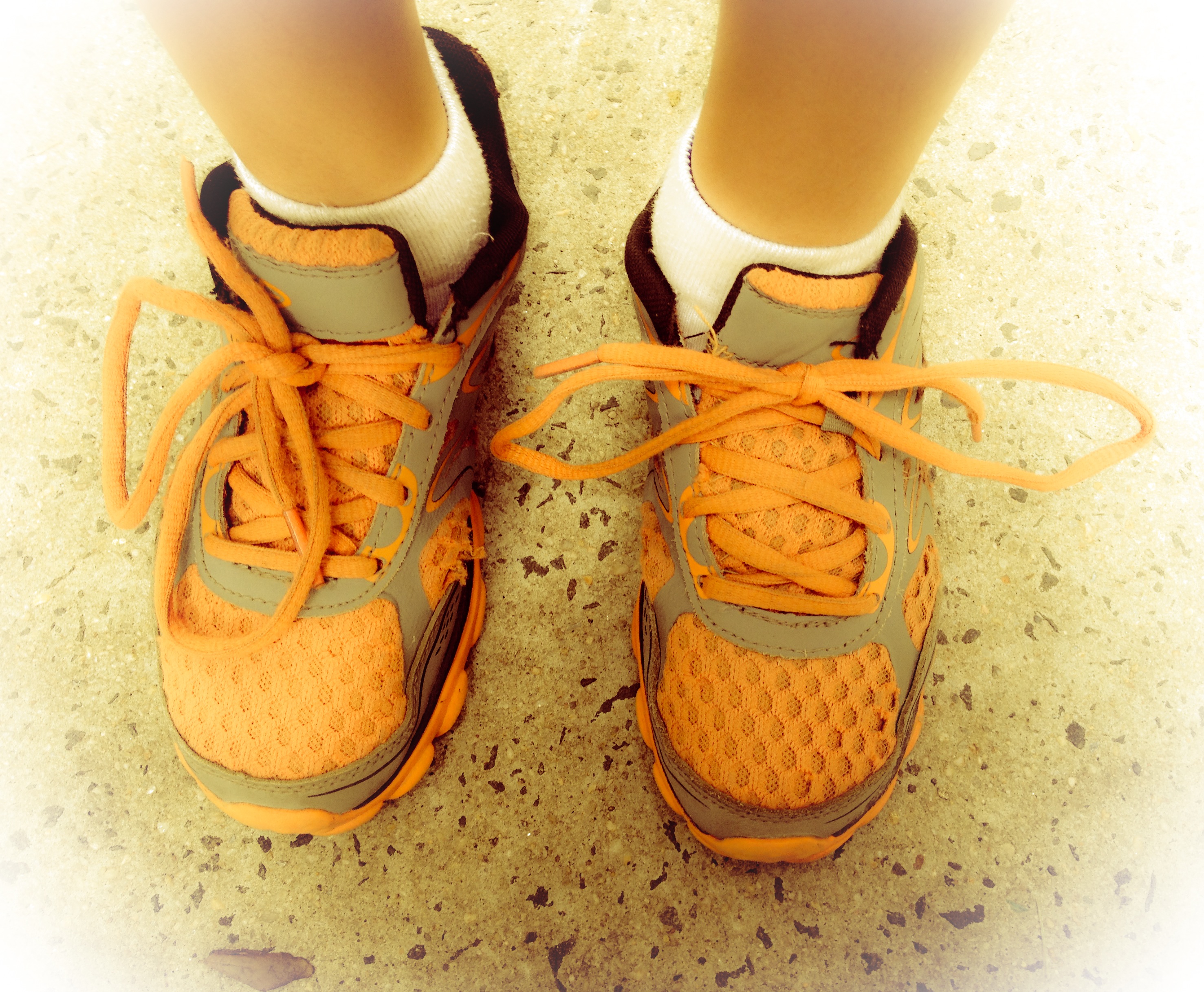 Today I experienced my first ever end of summer blues.  Reality is sinking in.  Summer camp is over, its getting dark earlier and I'll be going back to school on Thursday.  Waaahhh!
Actually, the worst part about this pending fall business for me is socks.  I cannot stand wearing socks!  Socks are a deal breaker.  Once it starts getting cold out, I'd happily be bundled up from head to ankle wearing only sandals on my feet.  Cue perfect song lyric…"The cold never bothered me anyway."  Mom buys me the shortest ankle socks available because long socks are a no-no.  They choke my legs.  I tolerate ankle socks but I just can't stand to have my toes crunched together.  I really don't like the feel of the little balls that gather inside the socks and tickle my toes.
Two weeks ago my Mom tricked me.  We went back to school shopping and she showed me an awesome pair of orange champion sneakers!  I had to have them!  The only problem was that in order to show them off to my friends I would have to wear socks.  I caved.  She had me at orange.  I was so excited that I didn't realize they were tie laces.  No velcro?  I didn't know how to tie laces and was not interested in learning.  I really did love the orange kicks though so my dad had me watch a few YouTube videos on how to tie laces and he practiced with me every day.
I am happy to say that today, Labor Day 2014 all my practicing paid off!  I tied my own sneakers for the first time!  I did a lot of fun things this summer but being able to put on my own sneakers was the best!  Accomplishment!  I did everything a kid could imagine this summer.  I had a blast and learned a lot. Some things I wanted to do and some I was coaxed into by my parents.  In the end it all tied together and I can't wait to see what fall brings my way!