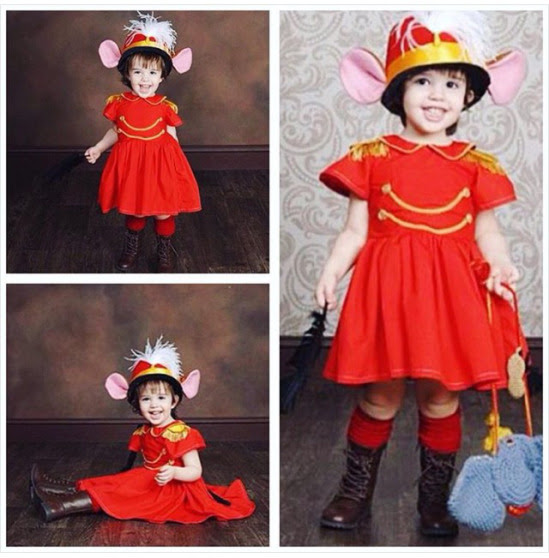 Once and a while we see a product or a brand we just love on someone else's blog. Here is a guest post by our friend Tara at Growing Up Main Street that we just had to share with you!
Little Gun Tank
I have an Instagram obsession. I've "met" so many wonderful moms and fellow Disney lovers on the app. Instagram started my vintage clothing obsession for my daughter CJ. I do a lot of shopping via Instagram and I enter every contest that I can. I've won some pretty amazing things, but nothing ever can or will top winning CJ's "Timothy Q. Mouse" Halloween costume this year.
Late this past summer, I stumbled across a fairly new Instagram account @littleguntank. The photo was of the cutest dress made out of a pair of vintage pink Princess Jasmine sheets, exactly like I had on my bed in my late teens. I immediately fell in love with the account. Across the world (in Australia) was another Disney fanatic named Lottie who made the most gorgeous children's clothing out of fabric reminiscent of my childhood.
Little Gun Tank is named after a nickname Lottie had for two friends from school. This amazing woman creates quality clothing in her spare time when she is not working as an animator for children's programming. Lottie's pieces have a nostalgic feeling to them inspired by clothing from the 1950s.  She meshes her appreciation for vintage clothing with her love of Disney resulting in whimsical and fun elements to the pieces. Lottie is not only talented she is generous and donates items to multiple auctions and holds give aways for her followers.
We were lucky enough to win CJ's Timothy Q. Mouse Halloween Costume from @littleguntank and there are no words to describe this piece. As if the attention to detail on the dress was not enough, the hat was over the top perfect!  It is a piece of hand crafted art. CJ was so excited to wear her costumw that she shouted to everyone we passed, "I'm Timothy Mouse." There is no way that we would have ever been able to afford such a high-quality costume and we are forever grateful to have won it.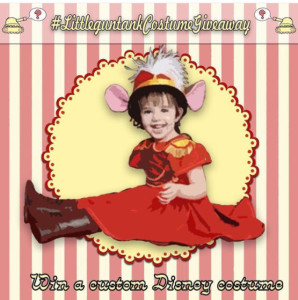 If you would like a chance to win a costume, you are in luck! Little Gun Tank is currently holding another costume contest. Just head on over and look for the image of CJ as Timothy Q. Mouse, then click on it for information on how to enter!
Good Luck. When you stop by don't forget to congratulate @littleguntank on hitting 2,000 followers on Instagram!