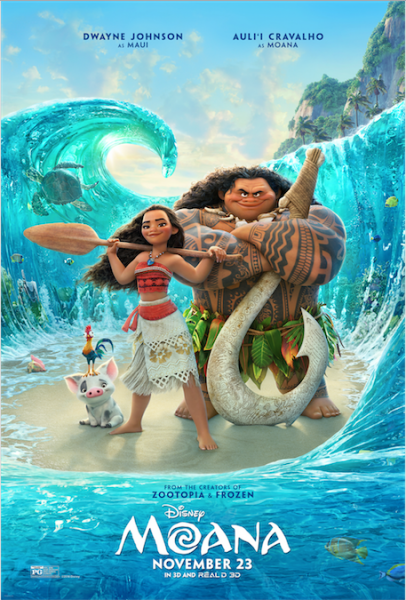 We were fortunate to be invited to an advanced screening of Moana in 3D last night.
Moana is visually stunning!  From the moment the film began we were whisked away into a colorful, exciting adventure that we hoped would never end!  I have seen every animated Disney film and I can tell you that not one takes hold of you and transports you into its world as swiftly and effectively as Moana does.
The vibrant Polynesian village scenes are amazing.  In typical Disney fashion every detail is on point.  You can almost touch every blade of grass and practically smell the gorgeous tropical flowers that grace the screen.  For two wonderful hours I felt like I was back in Hawaii on my honeymoon!  Its not just the scenery that springs to life on screen. Both Moana and Maui's hair could be stand alone characters they are so expressive.  The ocean even becomes a magical and expressive character that lights up the imagination.
A special shout out to the animators for bringing Maui's tattooed body to life.  These amazing scenes are reminiscent of the book The Illustrated Man (by Ray Bradbury).  I normally try to avoid 3D films since they give me a headache but 3D is the only way to experience Moana.
Without spoilers, the film's message is clear:  Who are you at heart?  Moana has been drawn to the ocean ever since she was a toddler.  When she discovers that her island is slowly dying due to a curse set in motion by Maui (a demigod) she must choose between her parents' dreams for her life and her true destiny.  This is no small feat for anyone let alone a teenage girl.  Once Moana and Maui meet, their adventure is full of adversary, antics and at times peril.  It takes a while but the two eventually become friends and figure out who they each are along the way. Everything in between is bursting with imagination but I will let you experience the adventure for yourselves.
The ending of the film is exciting, heartwarming and visually delightful.  I could see my son rooting for the characters to succeed in their quest from the corner of my eye.  He was thoroughly engrossed for the duration and loudly clapped and cheered with the rest of the audience as it ended.  We stayed through the credits and he jumped up and exclaimed "Can we go to Aluani… you know the Disney in Hawaii?"  Bravo Disney, well played!  It seems he has been watching your commercials!  I guess he was as emboldened by Moana's persistence and strength of will as I was.
Moana premieres in theaters today (November 23rd) just in time for the long Thanksgiving weekend.  Hurry to the theater to get your own special high five from the ocean!
For more fun check out the official Moana Facebook and Twitter pages.
*Tickets to see Moana were provided in exchange for my honest review.  All opinions are my own and were not influenced in any way.*