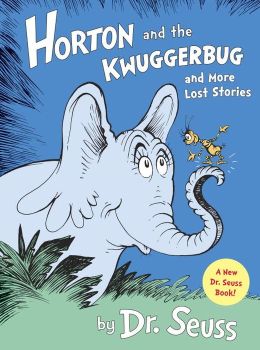 Who does not love a good Dr. Seuss book?  I know I do.  Do you?  Do you ever take a minute to read a fun Seuss book or two?
Lucky for me a new Dr. Seuss book was just released this month!
The new book is called "Horton and the Kwuggerbug and More Lost Stories."  It includes four Dr. Seuss stories that originally appeared in Redbook magazine in the 1950s.  I am excited to read about Horton the elephant and Marco (the first Dr. Seuss children's book character) again.
The stories included in this collection are:
"The Hoobub and the Grinch."
"Marco Comes Late"
"Horton and the Kwuggerbug"
"How Officer Pat Saved the Whole Town,"
This is not the first book of lost Dr. Seuss works to be published.  In 2011 a collection of seven stories was published called "The Bippolo Seed and Other Lost Stories"
So you guessed it, its Wednesday and I'll be at the book store shopping!  After all, "The more that you read, the more things you will know. The more that you learn, the more places you'll go." (Dr. Seuss "I Can Read with My Eyes Shut.")