New York Rangers Try Hockey for Free!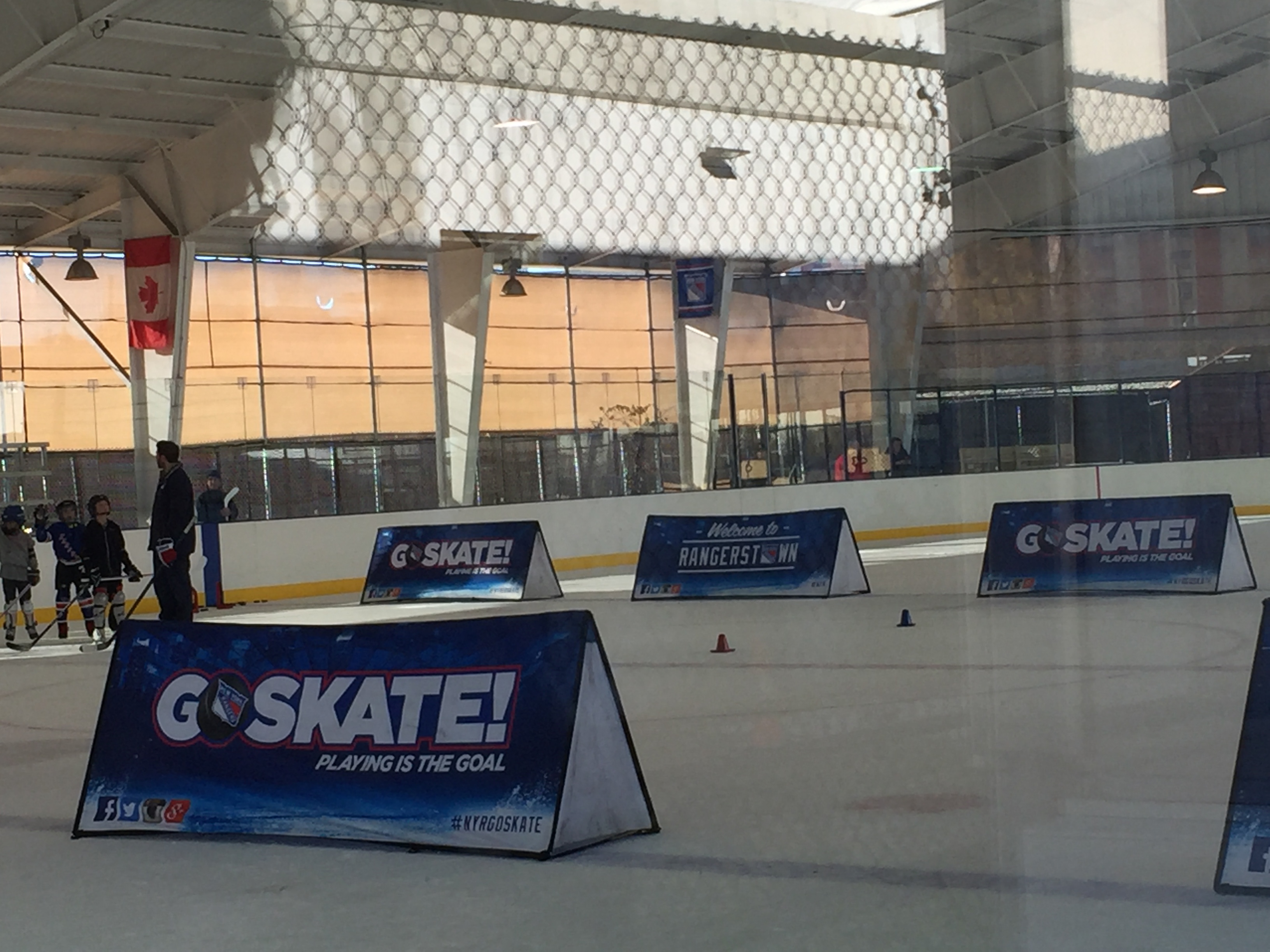 Today was one of my favorite days of the year!  I got to attend one of the annual "Try Hockey for Free" events hosted by the NY Rangers!
This is my third year attending "Go Skate" and it does not disappoint.  This year we missed the event in NYC so Mom & Dad were kool enough to drive me up to Ebersole Ice Rink in White Plains New York.
Upon arrival, we were greeted by a giant NY Rangers Hockey player.  This really got me psyched.
I have my own skates but I needed padding and hockey gloves.  No problem as all equipment is provided as part of the event.
As soon as I was geared up I went over to get my very own custom-made hockey stick (that I get to keep)!  A very nice Ranger employee measured me and cut my stick to size.  It made me feel like an authentic NY Ranger!
Next, we were put into groups by skating experience: First time, one year, two-year, etc.  We had our very own coach who lead us through drills and stick holding techniques.  I have to say it is much harder to skate while holding a stick.  It took some getting used to but now I feel like a pro!
Heres the best part:
At each session, a Ranger alumni guest coaches at the event!  At our session we were lucky enough to receive pointers and encouragement from Tom Laidlaw.  He was a SUPER, SUPER nice guy and really pushed us to try our best!
After the quickest hour of my life (I really wanted it to last longer) we got off the ice and lined up for a photo with Mr. Laidlaw.  He was so awesome.  He personally signed our sticks and gave everyone an autographed picture of himself from his playing days.
Here is info on the program if you are interested in attending next year.  Just go to the NY Rangers website through the link above and sign up for a reminder email.  Check with your local NHL team to see if they offer youth hockey programs in your area.
Each Session includes:
Introductory on-ice lesson with professional instruction
Free rental skates and loaner equipment
Appearance and autographs with a New York Rangers alum
Exclusive New York Rangers hockey stick for each participant
Go Skate is designed for children ages 4-10 years old with little or no skating experience.  Each Session is limited to 75 participants and space is filled on a first-come, first-served basis.  Remember, Pre-registration is required.
Thank you New York Rangers, Tom Laidlaw and Ebersole Ice Rink for a fantastic experience that I will remember forever!