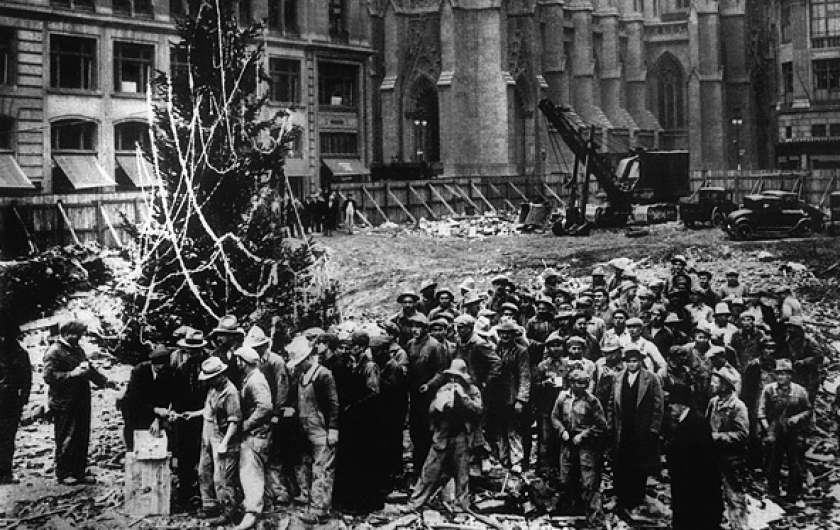 When you say Happy Holidays I automatically think of the Christmas Tree at Rockefeller Center.  It seems to get bigger and brighter each year.  I love it!
If you live in NYC you can't help but smile as you walk by.  Everyone is always rushing around in mid-town but walking by the tree seems to slow time down.  You turn into an instant tourist and you can't help but stare up in awe.  Forget the skyscrapers, we have a giant, amazing tree!
The original tree was put up on Christmas Eve 1931 during the great depression.  Construction workers were building the soon- to be "Rock Center".  That afternoon to celebrate the season they put up a tree and decorated it with paper, cranberries and tin cans.  They had no idea it would become a long-standing tradition starting in 1933.  My Mom likes the sentiment of these men putting up a tree at their work site so much she can't stop talking about how fortunate they must have felt to have jobs at that time.
This past Saturday night I went to see the tree with my family.  We went on a last minute whim and boy was it a blast!  My Aunts, Uncle and older cousins all grew up visiting the tree but still stood in wonder at its base.  We battled the large crowds, squeezed our way in front of the tree and took pictures and silly selfies together  We had a lot of laughs and it is a night I will remember forever!
If you have never seen the tree in person, put it on your bucket list.  It's larger than life and it turns you right back into a KID filled with all the wonders of the season.
Happy Holidays everyone!