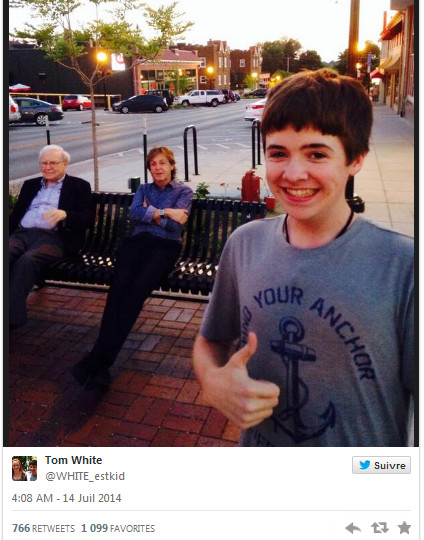 Ellen's Oscar selfie was called the "best selfie ever."  It was so popular that it crashed Twitter.  I admit it was pretty kool stuff, but does it deserve the title "BEST?"  For one thing, Ellen is famous. She was at the biggest, most glam party of the year and like the song says "Oh I get by with a little help from my friends".  I kinda feel like you have to work it a little harder for the title "BEST." (No offense Ellen, luv ya!).

Ever wonder what it would be like for your photo or video to go viral?  Just your average KID hanging out with friends, seizing the moment and capturing something fun?  On July 13th, Tom White of Omaha, Nebraska found out.  He heard that Sir Paul McCartney and Warren Buffett were hanging out at a local ice cream shop in Dundee and the rest as they say is history.

Here's the inside SCOOP straight from Tom:

– Tell me about how you came about seeing Paul McCartney and Warren Buffet.  Did you know they were going to be there? I was at my friend's house just chillin and my friend Jacob called me. He said that there was a picture on Instagram of Paul at ecreamery (local ice cream parlor).  I told my friends Drew and Luke and we hopped in Drew's car and picked up Jacob.  Luke wanted to get his vinyl of Abbey Road signed so we went to his house, got it and then we headed over there.

-What were you thinking when you saw them? I wasn't really thinking… When I saw him I knew I wanted to talk to him and shake his hand, because he is a legend.

-Were you nervous taking the picture.  Did you think they would realize it and get upset?

It technically wasn't a selfie, Jacob took it. But I wasn't really worried about that. I just wanted a picture with them!

-Have you tweeted the picture to Sir Paul and Mr. B? I didn't tweet it to either of them, but my friend Luke did. And once Paul saw it he tweeted it himself!

-Is Waren Buffett around a lot being you live in Omaha?  Have you seen him before?

Warren Buffet is around a lot. He has a house very close to ecreamery. I've never seen him before that night, but lots of Omahans have

-Are you singing Beatles songs in your head still from the excitement of all this?  Yes! The Beatles songs are just stuck in my head!

-That is the BEST selfie I have ever seen!  Have you gotten offers to go on any talk shows, such as Ellen?  Are you interested in that?  Should I start heckling people for you? Thank you very much!  I have not, but I would love to go on Ellen.  I tweeted at her, but so far no luck.

-Anything else you'd like to share with our readers?  Tell us some secrets about your future plans?  Are you going to do anything special with your newfound fame?  I haven't really thought about future plans too much.  I picture myself doing something fun, but I guess everyone starts off wanting to do something fun.

Not a bad day in the life!  Upon review of our conversation, I'm revising my stance. Ellen still has the BEST selfie ever!  Technically Tom's picture is more of a hybrid photo bomb/creep shot (photo taken without the subject's knowledge).  Tom gets voted BEST Creative Photo Bomb ever in my book!  Now if we could just get Tom and Ellen together!  I'd like to  see what kind of amazing "Selfie Bomb" they would think up together.  What do you think Ellen?  I'm pretty sure you have been on summer vacation but the Fall season is coming.  I think you KIDS could scoop an epic shot together.