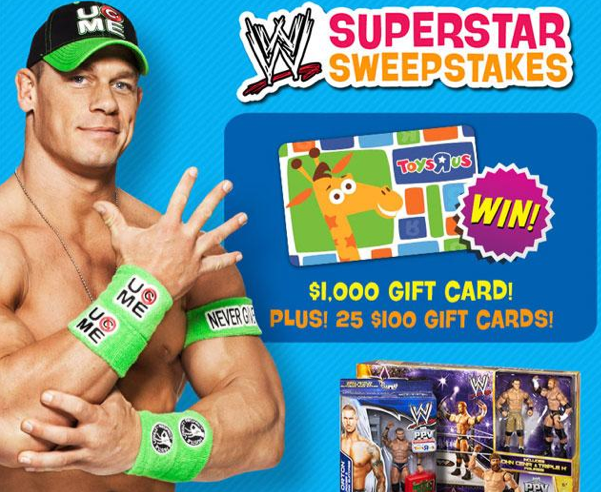 Its Wednesday and that finds us at the World's Greatest Toy Store.  Do you know where we are?
This mecca of awesomeness was founded in Washington DC in 1948 by a very smart 25-year-old.  His name was Charles Lazarus and us kids all owe him big time.  In 1960 Mr. Lazarus introduced his mascot Geoffrey to the world.  This friendly giraffe came with his own song that we are all still singing today.  Now you know we are talking about Toys R Us!
Toys R Us has had some pretty kool ideas over the years.  One of the smartest things they ever did was open a Times Square location in 2001.  It has a 60 ft. ferris wheel and a 20 ft TREX that scared me to death when I was three!
Now Toys R Us is teaming up with the WWE.  Fans of the WWE can visit any Toys R Us and take a photo with their favorite WWE toy.   Post the photo on Instagram until 4/25 with the tag #TRUSUPERSTAR.  One Grand prize winner will get a $1,000 gift card and twenty-five runners-up will take home $100 gift cards!
Drop everything and get to Toys R Us fast!  The contest ends this Friday.  If anyone asks why you are racing around so frantically just reply "I don't want to grow up I'm a Toys R Us kid".
http://www.wwe.com/trusuperstar-26219013